Much of slicing and hatching process is already taken for granted in commercial software mostly offered by the OEMs of these systems rarely discussed amongst academic research. Already we observe practically the implications direct control over laser parameters and scan strategy on the quality of the bulk material – reduction in defects, minimising distortion due to residual stress, and the surface quality of parts manufactured using these process. Additionally, it can have a profound impact the the metallic phase generation, micro-structural texture driven via physics-informed models [1], grading of the bulk properties and offer precise control over manufacturing intricate features such as thin-wall or lattice structures [2].
This post hopefully highlights to those unfamiliar some of the basis process encountered in the generation of machine build files used in AM systems and get a better understanding to the operation behind PySLM. I have tried my best to generalise this as much as possible, but I imagine there are subtleties I have not come across.
This post is to provide some reference into the generation of hatches or scan vectors are created for use in AM processes such as selective laser melting (SLM), which uses a point energy source to raster across a medium. Some people prefer to more generally to classify the family of processes using the technical ASTM F42 committee standards 52900 and 52911 – Powder Bed Fusion (PBF). I won't go into the basic process of the manufacturing processes such as EBM, SLM, SLA, BJF, as there are many excellent articles already that explain these in far greater detail.
Machine Build Files
AM processes require a digital representation to manufacture an object. These tend to be computed offline – separate from the 3D Printer, using specialist or dedicated pre-processing software. I expect this will become a closed-loop system in the future, such that the manufacturing integrated directly into the machine.
For some AM process families, the control operations may be exceedingly granular – i.e. G-code. G-code formats state specific instructions or functional commands for the 3D printer to sequentially or linearly execute. These tend to fit with deposition methods such as Filament Extrusion, Direct-Ink-Writing (robo-casting) and direct energy deposition (DED) methods. Typically, these tends to be for deposition with a machine systems, which requires coordination of physical motion in-conjunction with some mechanised actuation to deposit/fuse material.
Machine Build File Formats for L-PBF
For exposure (laser, electron-beam) based AM processes, commercial systems use a compact notation solely for representing the scan path the exposure source will traverse . The formats are often binary to aid their compactness.
To summarise, within these build files, an intermediate representation consists of index-based referenceable parameters for the build. The remainder consists of a series of layers, that contain geometric entities (points, vectors) that are used to to control the exposure for the border or contour or raster or infill the interior region. For L-PBF processes, the digital files, commonly referred as "machine build file" comes in various flavours dependent on the machine manufacture:
Renshaw .mtt,
SLM Solution .slm,
DMG Mori Realizer .rea
EOS .sli
Aconity .cli+ or .ilt wrapper
Some file formats, such as Open Beam Path format can specify bezier curves [3]. Another recently proposed open source format created by RWTH Aachen in 2022 called OpenVector Format based on Google's Protobuf schema. The format aims to offer a specification universally compatible across a swathe of PBF processes and supplement existing commercial formats with additional build-process meta-data (e.g. build, platform temperature, dosing) and detailed definition with further advancements in the process, such as multi-beam builds.
Build-File Formats
Higher level representations that describe the distribution of material(s) defining geometry – this could be bitmap slices or even a 3D model. Processes such as Jetting, BJF, High Speed Sintering, DLP Vat-polymerisation currently available offer this a reality. With time, polymer and metal processes will evolve to become 2D:, diode aerial melting [4] or more aerial based scanning based on holographic additive manufacturing methods, such as those proposed by Seurat AM [5] based off research at LLNL, and recently at University of Cambridge [6] . In the future, we can already observe the exciting prospect of new processes such as computed axial lithograph [7] that will provide us near instantaneous volumetric additive manufacturing.
For now, single and multi point exposure systems for the imminent future will remain with us as the currently available process. PySLM uses an intermediate representation – specifying a set of points and lines to control the exposure of energy into a layer.
The Slicing and Hatching Process in L-PBF
With nearly most conventional 3D printing process, it begins with a 3D representation of a solid volume or geometry. 2D planar slices or layers are extracted from a 3D mesh or B-Rep surface in CAD by taking cross-sections from a geometry. Each slice layer consist of a set of boundaries and holes describing the cross-section of an object. Note: non-planar deposition does exist for DED/Filament processes, such as this Curved Layer Fused Deposition Modeling [ref] and a spherical slicing technique [8].
For consolidating material, an exposure beam must raster across the surface medium (metal or polymer powder, or a photo-polymer resin) depending on the process. Currently this is a single or multiple point which moves at a velocity vwith a power P across the surface. The designated exposure or energy deposited into the medium is principally a function of these two parameters, depending on the type of laser:
(Quasi)-Continious Wave: The laser remains active switched on (typically modulated using a form of PWM) across the entire length of the scan vector
Pulsed Mode (Q-Switched): Laser is pulsed at set distances and exposure times across the scan vector
Numerous experiments often tend to result in parametric power/speed maps to the achieved part bulk density, that result in usually optimal processing windows that produce stable and consistent melt-tracks [9][10]. Recently, process maps are based on a non-dimensional parameter such as the normalised enthalpy approach, that more reliably assist selecting a suitable process windows [11].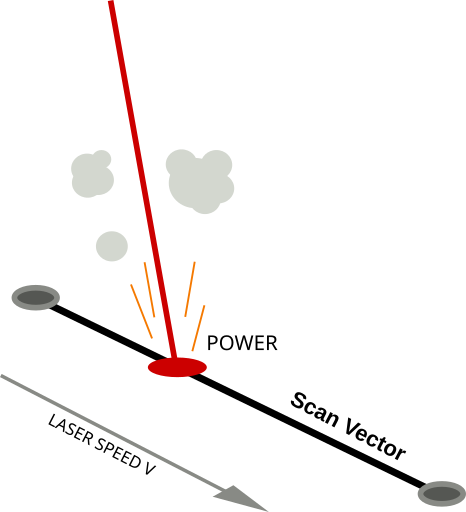 However, the complexity of the process extends further and is related to a many additional variables dependent on the process such as layer thickness, absorption coefficient (powder and material), exposure beam profile etc.. Additionally, the cumulative energy deposited spatially over a period of time must consider overlap of scan vectors within an area.
Scan Vector Generation
Each boundary polygon is offset initially to account for the the radius of the beam exposure, which is termed a 'spot compensation factor'. Some processes such as SLS or BJF account for global part shrinkage volumetrically throughout the part by having a global scale factor or deformed mesh to compensate to non-uniform shrinkage across the part.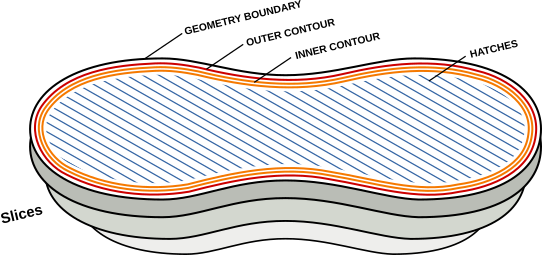 This first initial offset is the outer-contour which would be visible on the exterior of the part. This contour will have a different set of laser parameters in order to optimise and improve the surface roughness of the part obtained. A further offset is applied to generate a set of inner-contours before hatching begins.
Depending on the orientation of the surface (e.g. up-skin or down-skin), the boundary and interior region may be intersected to fine-tune the laser parameters to provide better surface texture, or surface roughness – typically varying between Ra = 3-13 μm [12] primarily determined by the surface angle and a combination of the process variables including,
the powder feedstock (bulk material, powder size distribution)
laser parameters
layer thickness (pre-dominantly fixed or constant for most AM processes)
Overhang regions and surfaces with a low overhang angles tend to be susceptible to high surface-roughness. Roller re-coater L-PBF systems – available only on 3DSystems or AddUp system,, tend to offer far superior surface quality on low inclined or overhang regions. Additionally, progressive advancement and maturity of laser parameter optimisation, and those computationally driven using part geometry [13] are able to further enhance the quality and potentially eliminate the need for support structures. Depending on the machine platform, these regions are identified by sampling across two-three layers. Overhang regions obviously require support geometry, which is an entirely different topic discussed in this post.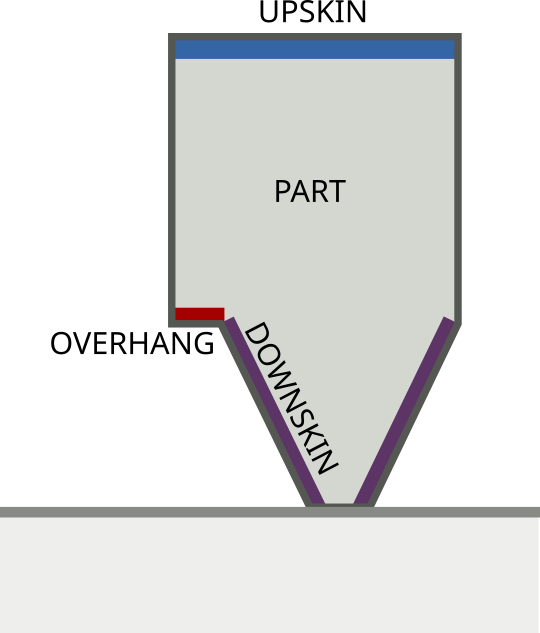 Following the generation of the contours, the inner core region requires filling with hatches. Hatches are a series of parallel scan vectors placed adjacent at a set hatch distance, h_d. This parameter is optimized according to the material processed, but is essentially related to the spot radius of the exposure point r_s in order to reduce inter-track and inter layer porosity. Across each layer these tend to be placed at a particular orientation \theta_h, which is is then incrementally rotated globally for subsequent layers, typically 66.6°. This rotation aims to smooth out the build process in order to minimise inter-track porosity, and generate homogeneous material, and in the case of SLM mitigate the effects of anisotropic residual stress generation.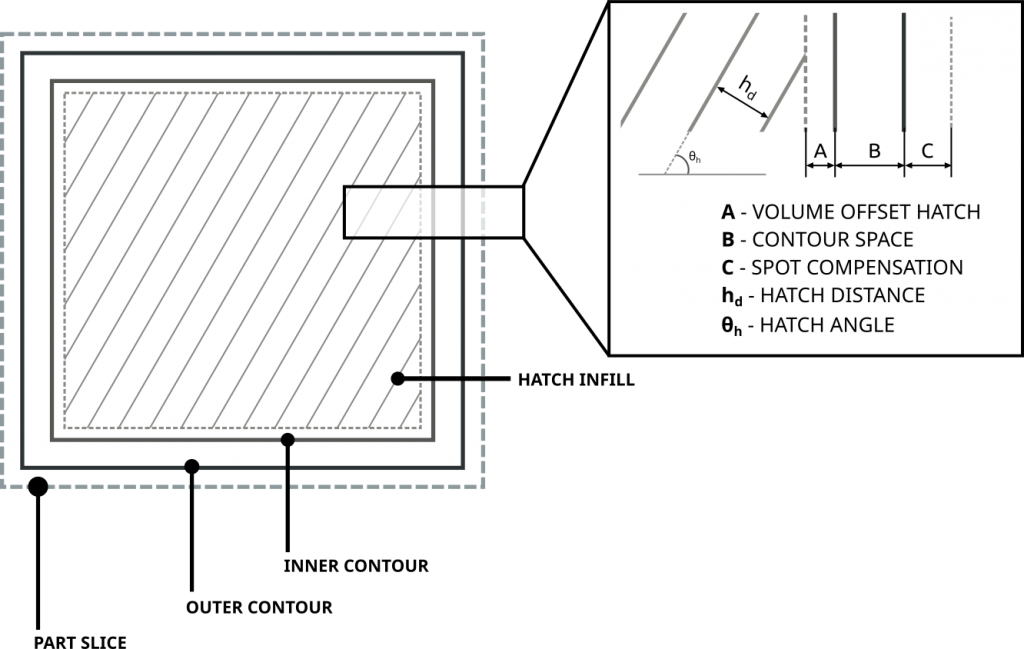 The distribution (position, length, rotation) of these hatch vectors are arranged using a laser scan strategy. The most common include a simple alternating hatch, stripe and island or checkerboard scan strategy.
Each set or group of scan vectors is stored together in a LayerGeometry, depending on the type (either a set of point exposures, contour or hatch vectors). These LayerGeometry groups usually share a set of exposure parameters – power, laser scan speed (point exposure time, point distance for a pulsed laser), focus position).
Some systems offer a greater degree of control and can control individual power across the scan vectors. Other can fine tune the acceleration and modulate the power along the scan vectors to support techniques known as 'skywriting'. For instance in SLM, it has been proposed that careful tuning of the laser parameters towards the end of the scan vector, i.e. turning can reduce porosity by preventing premature collapse of key holing phenomena [14]. In theory, PySLM could be extended to provide greater control of the electro-optic systems used in the process if so desired.
Hopefully, this provides enough background for those who are interested and engaged in working with developing scan strategies and material development using PySLM.
References

↑

1
Plotkowski, A., Ferguson, J., Stump, B., Halsey, W., Paquit, V., Joslin, C., Babu, S. S., Marquez Rossy, A., Kirka, M. M., & Dehoff, R. R. (2021). A stochastic scan strategy for grain structure control in complex geometries using electron beam powder bed fusion. Additive Manufacturing, 46.

https://doi.org/10.1016/j.addma.2021.102092

↑

2
Ghouse, S., Babu, S., van Arkel, R. J., Nai, K., Hooper, P. A., & Jeffers, J. R. T. (2017). The influence of laser parameters and scanning strategies on the mechanical properties of a stochastic porous material. Materials and Design, 131, 498–508.

https://doi.org/10.1016/j.matdes.2017.06.041

↑

3
Open Beam Path – Freemelt,

https://gitlab.com/freemelt/openmelt/obplib-python

↑

4
Zavala Arredondo, Miguel Angel (2017) Diode Area Melting Use of High Power Diode Lasers in Additive Manufacturing of Metallic Components. PhD thesis, University of Sheffield.

↑

5
Seurat AM.

https://www.seuratech.com/

↑

6

https://www.theengineer.co.uk/holographic-additive-manufacturing-lasers/

↑

7
Kelly, B., Bhattacharya, I., Shusteff, M., Panas, R. M., Taylor, H. K., & Spadaccini, C. M. (2017). Computed Axial Lithography (CAL): Toward Single Step 3D Printing of Arbitrary Geometries. Retrieved from

http://arxiv.org/abs/1705.05893

↑

8
Yigit, I. E., & Lazoglu, I. (2020). Spherical slicing method and its application on robotic additive manufacturing. Progress in Additive Manufacturing, 5(4), 387–394.

https://doi.org/10.1007/s40964-020-00135-5

↑

9
Yadroitsev, I., & Smurov, I. (2010). Selective laser melting technology: From the single laser melted track stability to 3D parts of complex shape. Physics Procedia, 5(Part 2), 551–560.

https://doi.org/10.1016/j.phpro.2010.08.083

↑

10
Maamoun, A. H., Xue, Y. F., Elbestawi, M. A., & Veldhuis, S. C. (2018). Effect of selective laser melting process parameters on the quality of al alloy parts: Powder characterization, density, surface roughness, and dimensional accuracy. Materials, 11(12).

https://doi.org/10.3390/ma11122343

↑

11
Ferro, P., Meneghello, R., Savio, G., & Berto, F. (2020). A modified volumetric energy density–based approach for porosity assessment in additive manufacturing process design. International Journal of Advanced Manufacturing Technology, 110(7–8), 1911–1921.

https://doi.org/10.1007/s00170-020-05949-9

↑

12
Ni, C., Shi, Y., & Liu, J. (2019). Effects of inclination angle on surface roughness and corrosion properties of selective laser melted 316L stainless steel. Materials Research Express, 6(3).

https://doi.org/10.1088/2053-1591/aaf2d3

↑

13
Velo3D Sapphire Printer – SupportFree Technology.

https://blog.velo3d.com/blog/supportfree-what-does-it-mean-why-is-it-important

↑

14
Martin, A. A., Calta, N. P., Khairallah, S. A., Wang, J., Depond, P. J., Fong, A. Y., … Matthews, M. J. (2019). Dynamics of pore formation during laser powder bed fusion additive manufacturing. Nature Communications, 10(1), 1–10.

https://doi.org/10.1038/s41467-019-10009-2